City of Courts
by Mark Macy
Macy Architecture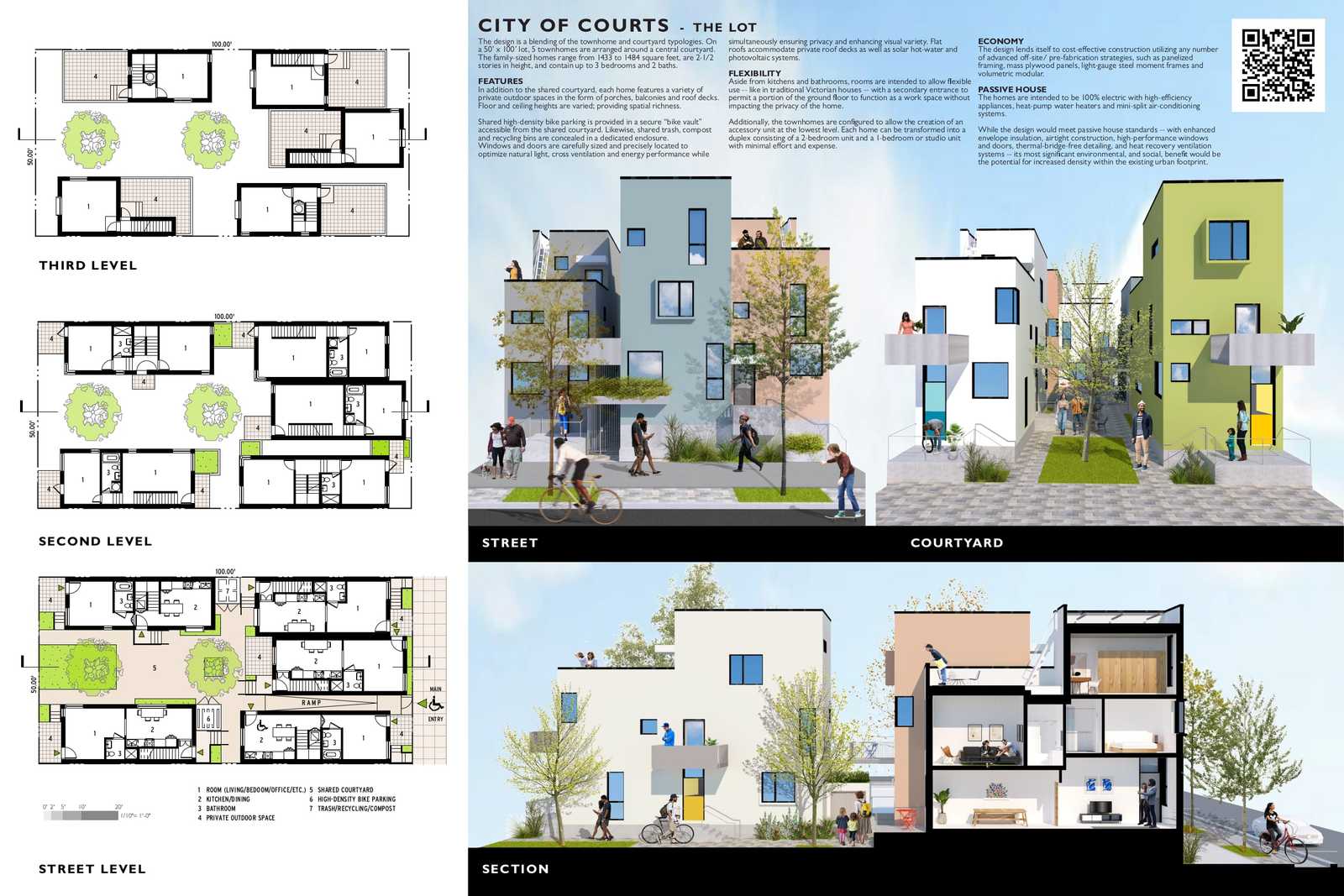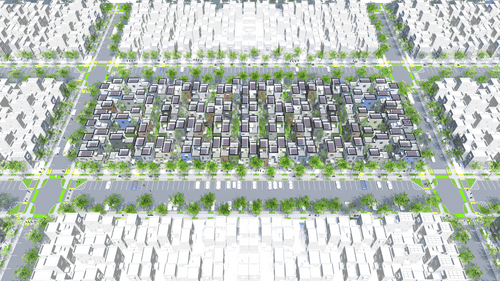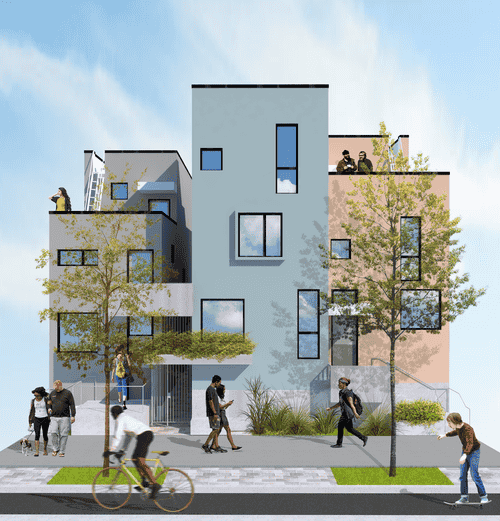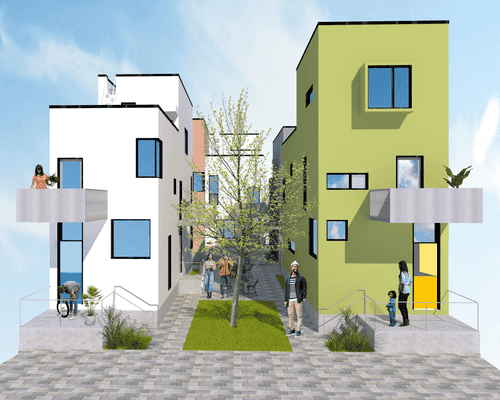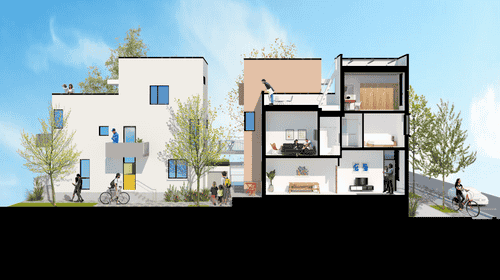 Description
TYPOLOGY
The design is a blending of the townhome and courtyard typologies. Five townhomes are arranged around a central courtyard. The family-sized homes range from 1,433 to 1,484 square feet, are 2-1/2 stories in height, and contain up to 3 bedrooms and 2 baths.
FEATURES
In addition to the shared courtyard, each home features a variety of private outdoor spaces in the form of porches, balconies and roof decks. Floor and ceiling heights are varied; providing spatial richness.
Windows and doors are carefully sized and precisely located to optimize natural light, cross ventilation and energy performance while simultaneously ensuring privacy and enhancing visual variety. Flat roofs accommodate private roof decks as well as solar hot-water and photovoltaic systems.
FLEXIBILITY
Aside from kitchens and bathrooms, rooms are intended to allow flexible use -- like in traditional Victorian houses -- with a secondary entrance to permit a portion of the ground floor to function as a workspace without impacting the privacy of the home.
Additionally, the townhomes are configured to allow the creation of an accessory unit at the lowest level. Each home can be transformed into a duplex consisting of a 2-bedroom unit and a 1-bedroom or studio unit with minimal effort and expense.
AN ALTERNATIVE SUNSET BLOCK
Given the prominent role that the west side of San Francisco will play in the City's new Housing Element and re-zoning efforts, we have taken the initiative to overlay our Lot design on the standard Sunset District block to demonstrate its potential at the urban scale.
A typical Sunset block supports 55 single-family homes, with 55 private garages and 55 curb-cuts that significantly limit on-street parking. The numerous private driveways result in 70 substandard on-street spaces at best, and the blocks yield a mere 11.4 dwellings per gross acre -- which is insufficient to support a sustainable public transportation system.
Alternatively, the dimensions of our newly envisioned Block allows for an attractive and activated streetscape featuring wide 14-foot sidewalks (free of private driveways), generous 5-foot wide tree wells, and a network of dedicated 5-foot bike lanes protected from automobile traffic. Since there are now no curb cuts, up to 140 on-street parking spaces can be achieved -- including 8 accessible spaces.
Now supporting between 120 to 240 dwellings in a variety of types and sizes -- from single-family townhomes to 2-bedroom, 1-bedroom and studio units, this "re-formed" Block increases both residential capacity between 118% and 336% and automobile parking capacity by up to 12%. This yields between 24.8 and 49.6 dwellings per gross acre -- which is more than sufficient to support a robust public transportation system.
Project Team: Mark Macy, Dana Manea, Jason Reyes, & Keith Dubinsky
Contact the architect
Mark Macy
Macy Architecture