SF Corner Lot Homes
by Hoda Harraz
Studio Sarah Willmer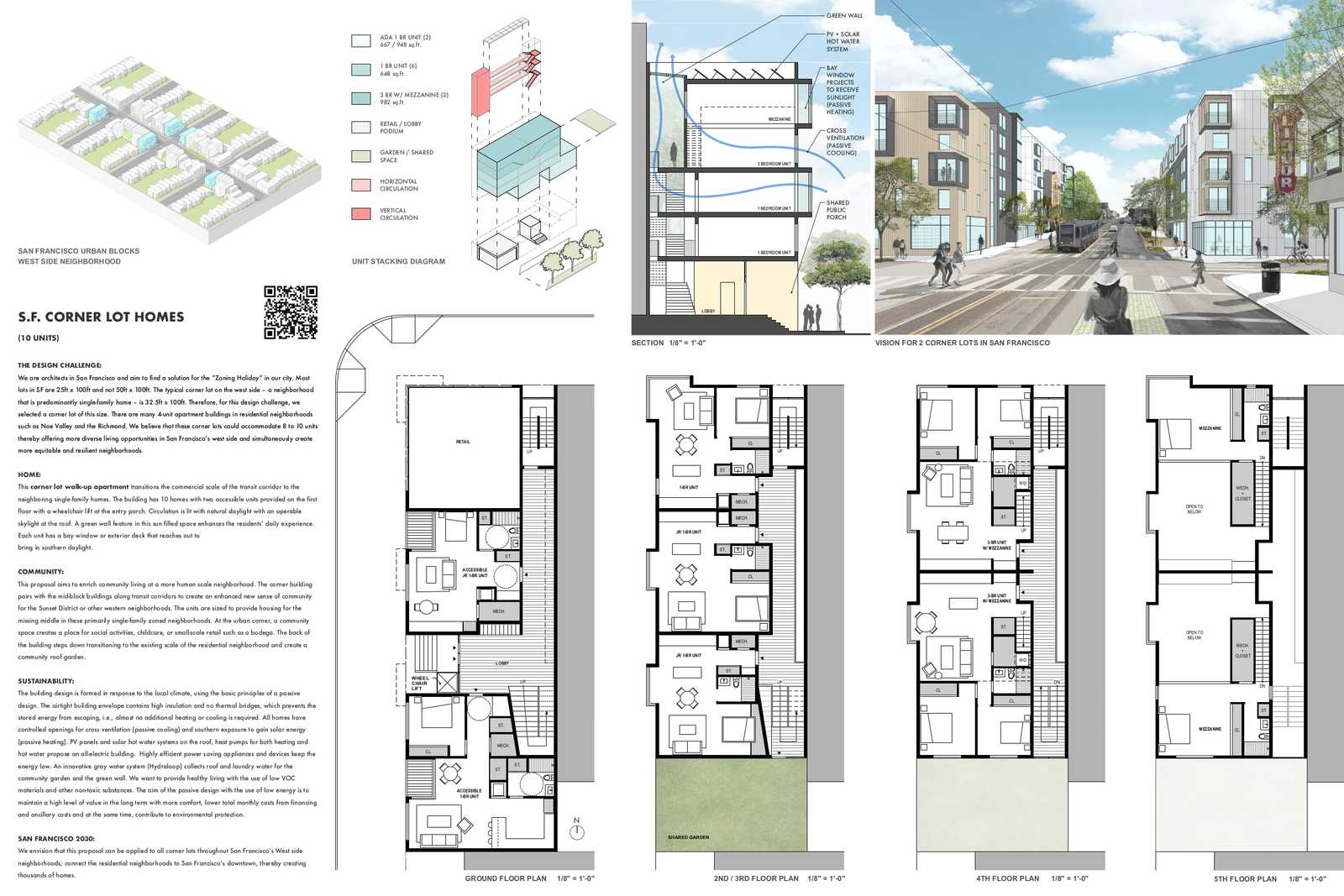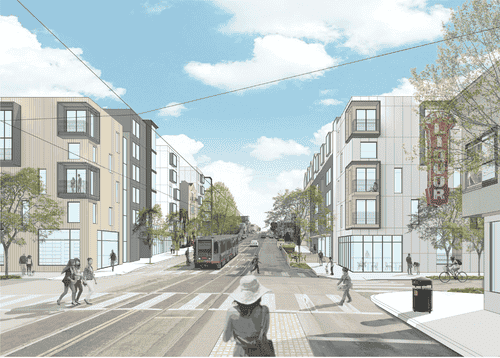 Description
THE DESIGN CHALLENGE
We are architects in San Francisco and wanted to find a solution for the "Zoning Holiday" in our city. We selected a corner lot for this design challenge and propose a density of 10 units. Typical corner lots on the west side – a neighborhood that is predominantly single-family home - are 32.5ft x 100ft.
HOME
This corner lot walk-up apartment transitions the commercial scale of the transit corridor to the neighboring single-family homes. The building has 10 homes with two accessible units provided on the first floor with a wheelchair lift at the entry porch. Circulation is lit with natural daylight with an operable skylight at the roof. A green wall feature in this sun filled space enhances the residents' daily experience. Each unit has a bay window or exterior deck that reaches out to bring in southern daylight.
COMMUNITY
This proposal aims to enrich community living at a more human scale neighborhood. The corner building pairs with the mid-block buildings along transit corridors to create an enhanced new sense of community for the Sunset District or other western neighborhoods. The units are sized to provide housing for the missing middle in these primarily single-family zoned neighborhoods. At the urban corner, a community space creates a place for social activities, childcare, or small-scale retail such as a bodega. The back of the building steps down transitioning to the existing scale of the residential neighborhood and creating a community roof garden.
SUSTAINABILITY
The building design is formed in response to the local climate, using the basic principles of a passive design. The airtight building envelope contains high insulation and no thermal bridges, which prevents the stored energy from escaping. All homes have controlled openings for cross ventilation (passive cooling) and southern exposure to gain solar energy (passive heating). PV panels and solar hot water systems on the roof, heat pumps for both heating and hot water support an all-electric building.
Contact the architect
Hoda Harraz
Studio Sarah Willmer