Sun Power / Sun Shade
by Randolph Ruiz
AAA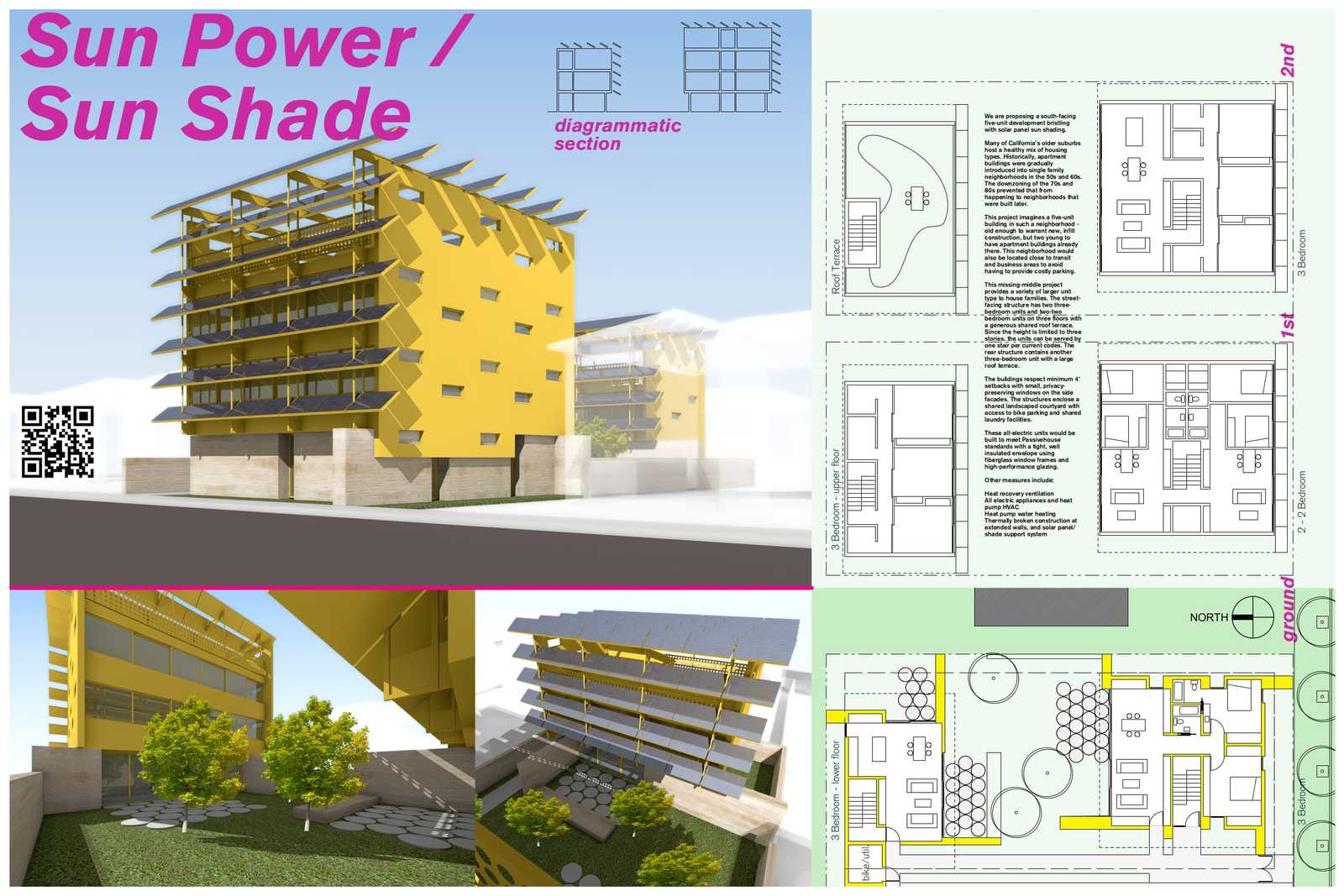 Description
We are proposing a south-facing five-unit development bristling with solar panel sun shading.
Many of California's older suburbs host a healthy mix of housing types. Historically, apartment buildings were gradually introduced into single family neighborhoods in the 50s and 60s. The downzoning of the 70s and 80s prevented that from happening to neighborhoods that were built later.
This project imagines a five-unit building in such a neighborhood - old enough to warrant new, infill construction, but two young to have apartment buildings already there. This neighborhood would also be located close to transit and business areas to avoid having to provide costly parking.
This missing-middle project provides a variety of larger unit type to house families. The street-facing structure has two three-bedroom units and two-two bedroom units on three floors with a generous shared roof terrace. Since the height is limited to three stories, the units can be served by one stair per current codes. The rear structure contains another three-bedroom unit with a large roof terrace.
The buildings respect minimum 4' setbacks with small, privacy-preserving windows on the side facades. The structures enclose a shared landscaped courtyard with access to bike parking and shared laundry facilities.
These all-electric units would be built to meet Passivehouse standards with a tight, well insulated envelope using fiberglass window frames and high-performance glazing.
Other measures include:
Heat recovery ventilation
All electric appliances and heat pump HVAC
Heat pump water heating
Thermally broken construction at extended walls, and solar panel/shade support system
Contact the architect
Randolph Ruiz
AAA